AUTO REMARKETING – "The companies you will find listed and profiled in the Power 300 2017 are the major players in the used car and remarketing worlds. Some are well-known anchors of the business; others are starting to make waves. These companies have each made the list for different reasons, but they have all made a significant impact."
View the complete Auto Remarketing POWER 300 2017 list here.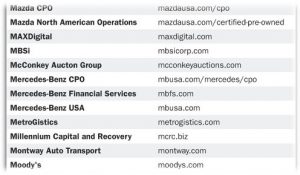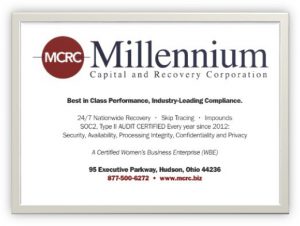 This is the second consecutive year Millennium Capital and Recovery Corporation based in Hudson, Ohio has been named to Auto Remarketing's Power 300. Millennium was included in the 2016 Power 300 listing – for more visit this page. Millennium provides recovery management and skip tracing services to auto finance captives and Top 20 consumer lenders. Millennium is the only outsourced recovery management company that is a certified Women's Business Enterprise (WBE). Millennium has partnered with auto finance captives on diversity and inclusion initiatives and projects.
Auto Remarketing's Power 300 2017 is presented by Ally. The issue also includes the insights of some of the auto finance industry's key decision makers. Completely updated for 2017, the list encompasses finance companies, dealerships, software companies, vendor partner providers, and all aspects of today's auto finance industry.
About Millennium Capital and Recovery Corporation®
Millennium Capital and Recovery Corporation was founded in 1999 and is a leader in the recovery management industry serving consumer lenders on a national basis. The company provides a full-range of recovery services that include nationwide recovery management, skip tracing, impound negotiation, transportation, and industry-leading proprietary ComplianceFIRST SolutionsTM program. Millennium is a certified Women's Business Enterprise (WBE) and has achieved the Service Organization Controls (SOC 2) Type 2 Internal Audit certification for five consecutive years. Headquartered in Hudson, Ohio, a suburb of Cleveland, Millennium is a privately-held company. For more information, visit NationwideRecoveryManagers.com or call 877.500.6272.